tradition and modernity
A rare villa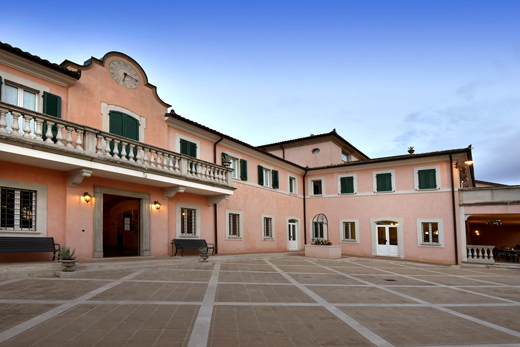 The Hotel Villa Santa Barbara, in the San Luca district of Montefalco, is a large country house. The building's oldest wing dates back to the late 16th century while the facade and the general layout date back to the 1800's. The oldest part of the house, which up to thirty years ago housed a wine cellar, is where the restaurant currently stands. Originally, the family's living quarters were on the large upper floor while the ground floor served as the storage area for the foods harvested from the fields and the administrative office. The villa is surrounded by centuries-old trees and grounds that extend over an area of 40,000 square metres, where guests can enjoy the 20 x 10 metre deck-level overflow swimming pool. The park, with its cypress-lined path, forest and extremely rare varieties of trees, including the Ginkgo biloba, paulownia, field maple, pink flowering horse-chestnut tree, Italian stone pine, and many more, is completely level, making it an ideal place for jogging. The 980 Meilland rose bushes offer a unique spectacle from May to October. The hotel has a spacious, enclosed car park.
The hall and rooms
In the brightly-lit sitting rooms, with their Castel Viscardo terracotta floors, full of books and a unique collection of antiques, an original ceiling stands out, made with painted 25×25 cm terracotta tiles and beautiful cross vaults. A selection of antique soup-tureens from the collection owned by Paolo Zuccari is on display in the restaurant. The terracotta ceiling was discovered during a renovation in the late 1960's: magnificent tiles were discovered underneath a false canvas ceiling covered with small designs, certainly dating back to the 1800's. Over 200 of these tiles are currently installed in the ceiling in the sitting areas. This is a rare work that, at the moment, is the only one of its kind in Umbria. While the exact date of the work is unknown, it is believed to be pre-19th century.
From the fireplace room, to the library, to the Art Nouveau-style bar with its trompe-l'oeil painting that pays homage to the Caprai Estate Winery and a veranda overlooking the park, to the theatre-style meeting room that accommodates 60 participants: everywhere there's light, space and a decor that brings together the ancient and the modern, in an atmosphere that is rich yet never ostentatious, and extremely comfortable.