40.000 meters of green
Avenues and gardens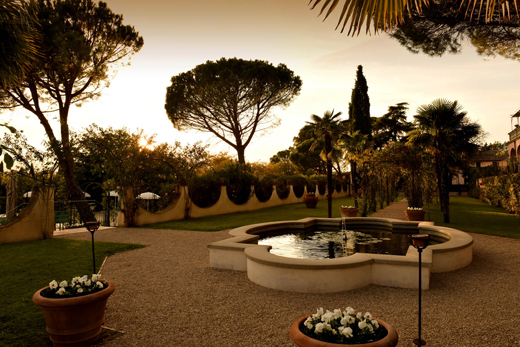 Guests of the Hotel Villa Santa Barbara can enjoy the beautiful park, a magical place for enjoying truly relaxing moments walking along country lanes and savouring the splendid climate of the Umbrian countryside. The park of the estate features different atmospheres like the Italian garden, the cypress-lined path and the palm grove.
The Italian Garden
The villa's lovely old plants: a large magnolia, tall palm trees, an enormous pine, a horse-chestnut and a large laurel framed by boxwood hedges.
The Cypress-Lined Path
The long path once marked the entrance to the villa. Rediscovered on an old map, the cypress trees were lovingly replanted to create a charming place to walk amidst the scent of rosemary hedges.
The Palm Grove
Thanks to a painstaking transplanting process the palm trees, once scattered about the old garden, form a beautiful path accented by a large, simple fountain
A swim with nature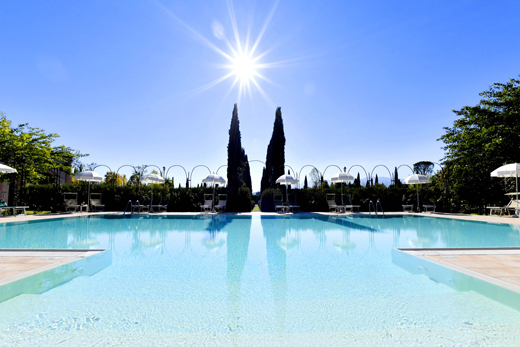 The large deck-level overflow swimming pool measuring 20 x 10 metres blends perfectly with the villa's architecture and the Umbrian landscape. The pool is surrounded by roses, including the famous Pierre de Ronsard of Meilland variety, rosemary and oleanders, a perfect place for enjoying a bit of tranquillity and a refreshing reprieve on hot summer days. Thanks to its position in the villa's grounds, all of the hotel's guests can enjoy a cool swim surrounded by the relaxing landscape of the hills of Montefalco