Facilities
The hotel guarantees your bedroom will be ready by 3.00pm and asks that you please help to honour this undertaking for arriving guests by observing the check out time of 11.00am on the morning of departure.
Air conditioning

All the rooms are equipped with an individually adjustable air conditioning system.

Safe

In each room there is an useful safe available for guests to deposit valuable items.

Internet

The rooms are equipped with Wi-Fi and broadband (via cable) internet access.

Satellite Tv

The satellite TV in the rooms provides a large variety of channels including CNN, BBC, Euronews, 2DF.

Soundproofing

All the rooms are soundproofed for a peaceful rest without any kind of noise, day and night.

Breakfast

A breakfast buffet is served from 07:30am to 10:00am.

Beds

All the rooms are equipped with king size beds for a good night's sleep.

Laundry service

Items are returned within 24 hours from Monday to Friday.

Facilities for disabled guests

The hotel has two rooms specially designed for guests with disabilities.

Parking

An enclosed car park is available for the use of guests.

Bar

There is a full service bar open 24 hours. Room service is also available.
Meeting & conferences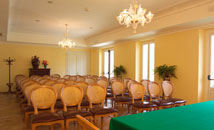 A room for events of excellence
The meeting room of the Hotel Villa Santa Barbara in Montefalco offers views of a small garden from three French doors. This is a pleasant and tranquil place for hosting an event, a meeting or a conference. The meeting room can accommodate up to 60 participants and offers all of the features necessary for hosting an event. Choosing a location like this peaceful hotel in Umbria is the perfect way to turn an event into an opportunity to concentrate and relax. The towns of Foligno, Spoleto, Trevi and Montefalco are just a short drive away
Weddings in Umbria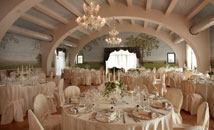 Beautiful location
The "Sala Grande" is set amidst the 40.000-sqm park of Hotel Villa Santa Barbara, in the village of San Luca just near Montefalco. It overlooks a large, infinitly swimming pool witch is surrounded by thousands of roses, and at night is lit in cobalt blue. The banquet hall is decorated with wall frescoes of the Umbrian countryside, and is lit by four huge Murano chandeliers. The room can accomodate up to 250 people, with no dividing walls or columns